DocScan
DocScan Desktop
DocScan allows you to search for chemical structures that are stored as MOL files, RXN files, SDF files or are embedded as MOL files within Word documents, Excel spreadsheets or PowerPoint presentations. It allows sub-structure and exact match searching as well as the selection of exactly which folders and sub-folders are to be searched.
Users can select from ISIS Draw or ChemDraw to enter their query structure. An SDF file of the selected structures can also be exported.
DocScan Explorer Plug-in
The Windows explorer plug-in has most of the functionality of DocScan Desktop. However, it works like a search in Explorer, the main difference being that you can search for a chemical structure by selecting "Structure Search" in the object selection options.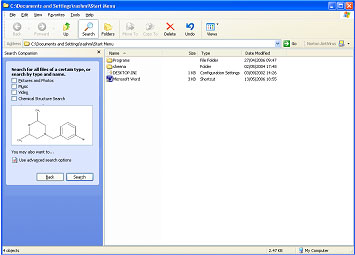 DocScan Enterprise
The enterprise edition of DocScan allows an organisation to define one or more shared areas and creates an index of the structures contained in any documents it finds. This index is then periodically updated for any changes/updates and additions automatically.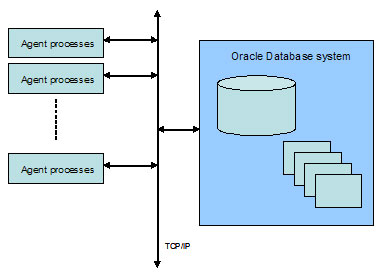 Multiple agents can run on XP systems. These can be setup to monitor file systems, where changes to documents w.r.t structures will automatically be recorded and indexed in the Oracle database system.
In the Oracle system all structures in the documents are indexed in a consistent data model.