NMRPredict Help
Drilling Down into the Database
Double clicking on a row in the Carbon Grid retrieves all the database entries behind that prediction.

At the top of the screen you will see a histrogram display which shows the distribution of all the records used to predict the atom of interest. A blue marker shows where the averaged prediction value has been calculated.

Double clicking on any number in the middle column of numbers will retrieve the database entries behind the prediction at that particular ppm. The atom which caused the database hit and its value are displayed in blue on the structure. If there is more than one database entry behind the prediction at a particular ppm you can scroll through the entries by using the forward and backwards arrows under the database structure. It is also possible to enlarge the database structure, view the structures as a tiled grid (see below)and print the database record.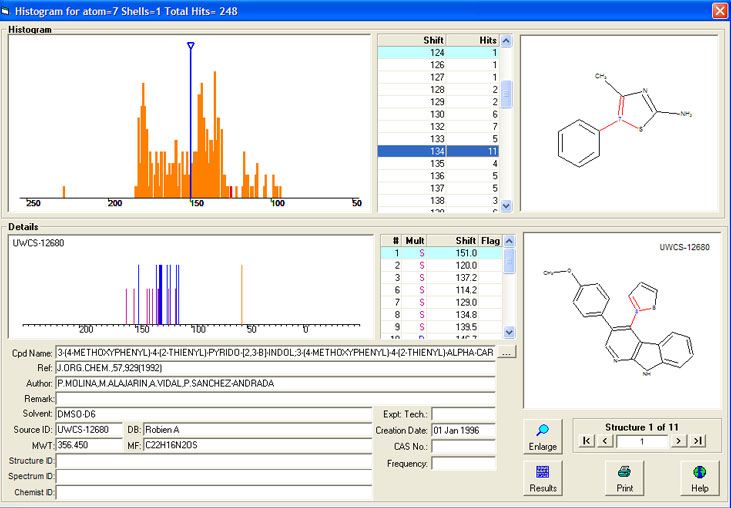 Information with each database record can include:
Cpd Name – the compound name. If the name is particularly long a small button box will be displayed to the right of the name. Clicking on this box will pop up a larger box with the complete name
Ref - the literature reference
Author – the author(s) in the literature
Remark – any additional remarks. This can include any changes made to the database reference
Solvent – the solvent the record was recorded in
Source ID – the unique source ID reference
DB - the database the entry is found in
MWT – the molecular weight of the record
MF – the molecular formula of the record
Structure ID – the structure ID. This only appears in user created databases
Spectrum ID – the spectrum ID. This only appears in user created databases
Chemist - the chemist. This only appears in user created databases
Expt Tech - the experimental technique used
Creation Date – the date the record was originally added to the database
CAS No - the CAS number of the record
Frequency – the frequency of the instrument used to measure the data